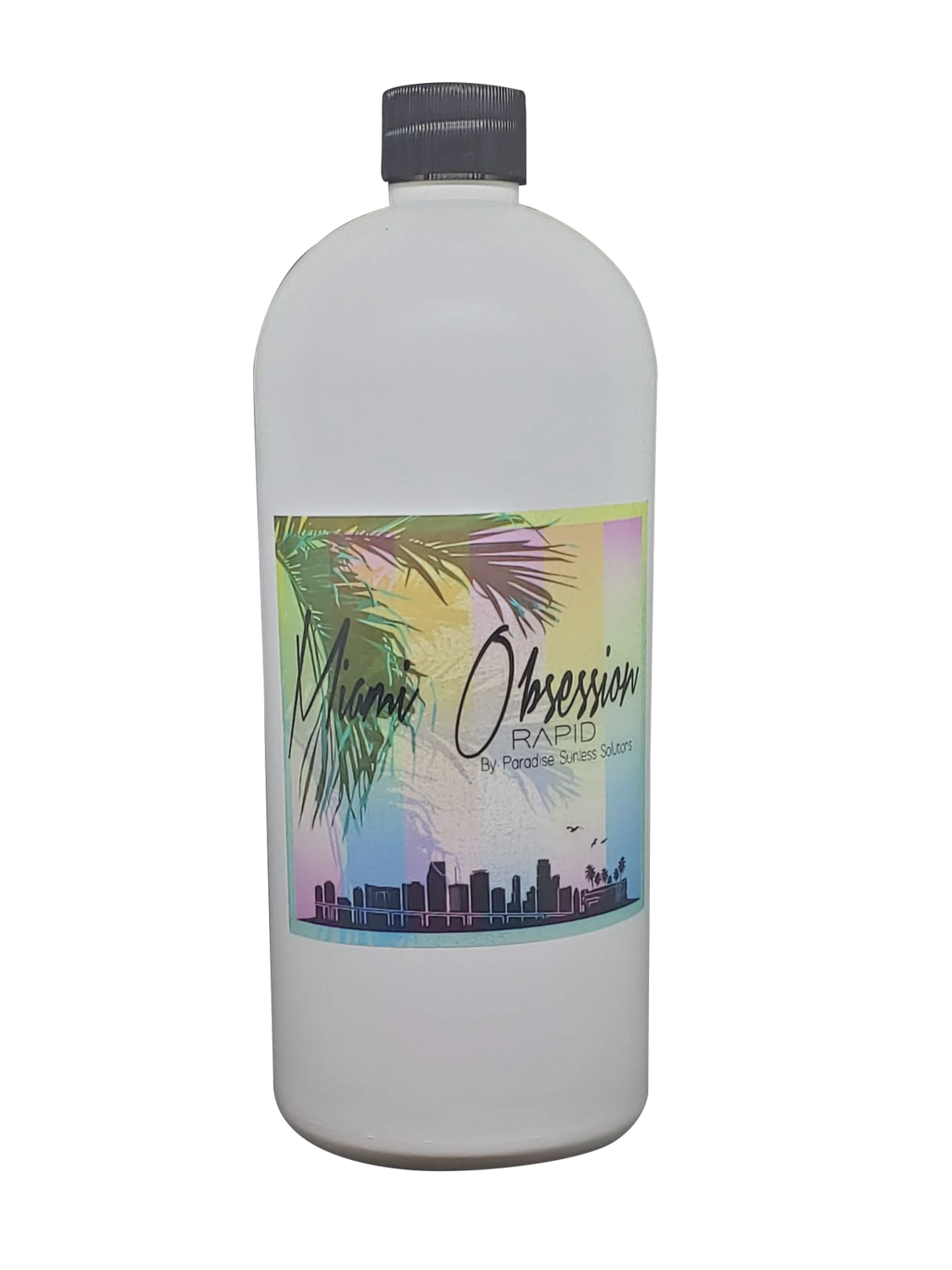 Miami Obsession Rapid 32 oz
SKU 00018
Product Details
Miami Obsession Rapid formula is hottest solution on the market bringing your clients a beautiful brown tan and deliciously dark too with it's Rapid DHA. This amazing rapid tan solution is great for all skin tones/ undertones and is the best quality tanning solution in the industry.
Have your client leave on the solution for 1 hour for a light tan (equivalent DHA 5%), 2 hours for a light/medium tan (equivalent DHA 7%), 3 hours for a medium tan (equivalent DHA 8%), and 4 hours for a deliciously dark tan (equivalent DHA 10%). Leaving the solution on for more than 4 hours will result in a darker tan but inform your client not to sleep with it on overnight. This rapid solution will leave your clients with a true brown color.

Warning: This product does not contain sunscreen and does not protect against sunburn. UV exposure of unprotected skin can lead to skin cancer, premature aging, and other harmful effects to the skin even if you don't burn. Avoid contact with eyes. For external use only. If irritation or rash develops discontinue use.
Ingredients: Aqua, Dihydroxyacetone, Glycerin, Alcohol Denatured, Carmel, Camellia Sinesis leaf extract (white tea extract), Camellia Oleifera leaf extract (green tea extract) Simmondsia Chinese (jojoba seed oil) Limnathes albacore (medow foam) seed oil, Sambucus nigra (elder) flower extract, Tocopheryl Acetate (vitamin E), Cholecalciferol (Vitamin D3), Palmitate (Vitamin A), Ascorbic acid (Vitamin C), Pyridoxine HCI (Vitamin B6), Erythrulose, Caffine, Phenoxyethanol, Ethylhexylglycerin, Yellow 5, Red 40, Green 55, Red 33.

Save this product for later